'You're path out of hell is waiting for you.'
So my love affair with the Black Dagger Brotherhood continues with the story of Zsadist and Bella.
I absolutely adore Zsadist, he could be my favourite, just don't tell the brotherhood, because I'd like to try them all!! Oh yes!!
♥ ♥ ♥
Zsadist is a tortured soul; he feels impure and has a past that is simply heartbreaking. It gets me right in the heart, a big strong man who has troubles to overcome.
A man who wants to please a woman, is very pleasing to read ♥
'Wanted to lie by her side and kiss her. Wanted….. to do it all to her, the kissing and the touching and the sucking and the licking.'
All the brotherhood are alpha men and they ooze hotness and sex appeal which gives us a panty dripping read...in this book we have the
Needing
, Bella's Needing….(the brotherhood are adorable when they discuss it between themselves, lol)
The
Needing
is THE fertile time for the ladies; it only happens once every 5 years and let me tell you...
Painful...
NEED...
WANT...
DESIRE...
Excruciating...
URGES...
...doesn't even come close to describing the ladies desperate need for a man and someone to ease the throbbing pain of sexual need between their legs!! And any man in the vicinity has a sudden desperate need for action.....wowza, it was so SEXY...I hope to experience the Needing again, PLEASE ♥ It gives want and desire a whole new meaning ♥
I loved finding out more about Bella and her character; her story with Zsadist, is truly beautiful.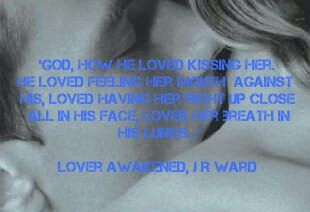 We also learn more about Zsadist's brother Phury and the trials and tribulations they have been through together all adding layers, character development and fabulous depth to the story.
Phury is an amazing brother to Zsadist and so very, very wise.
The author is all the time cleverly interweaving the story of the other brothers, giving us insight into their characters and stories, setting us up for our next thrilling instalment.
I feel like J R Ward has sprinkled some magic on the Brotherhood series to make them addictive. I really enjoy them all the way through but from just before the half way mark, and that has been the case for all three books, I literally can't put them down…real life gets in my way big time. Intensity passion, fierce unbreakable, bonding love....ahhhh....they are a beautiful, sexy read and Lover Awakened is my favourite so far.
♥
♥
TRUE
♥ BR with The Pinks....you feel me?