"I have a Gideon fetish"
Yes it's TRUE....I do!! This was my second reading and he was just as yummy!!!
"Need your L♥VE.....Need you"
Also TRUE!!!!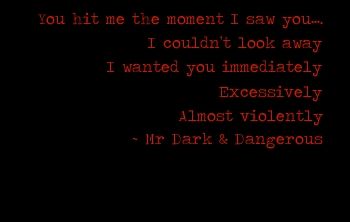 The story of Gideon and Eva's intensely passionate l♥ve affair continues in Reflected in You. These two deeply wounded souls work together against their demons looking for their happily ever after....
"He'd suffered brutality and violation, just as I had."
♥"How gorgeous are you."♥
"I l♥ved him insanely, needed him like I needed to breathe.""I'd give anything to be sucking your cock right now."
They are both extremely giving!!! Sexy times!!!
Gideon, for me, is the perfect alpha male, everything he says and everything he does is just simply delectable, delicious, amazing. xoxo Did I mention he is HOT, HOT, HOT!!! The way he uses his hands, his mouth, his body is just.....fabulously wonderful!!!
(Sighing & swooooning & melting!!)
"...I treasure you, Eva, and what we have. Even our driving urge to fcuk each other constantly is precious to me, because it matters."

"He tongued me deep and fast, fcuking my mouth, making love to it. I drank him in, licking and tasting, moaning at his insatiable need."
Eva is one lucky lady, she just needs to realise it!
And.....
"There's only you Eva."
(sigh)
"You're all I want, Eva. There's no one else. There will never be anyone else."
(sigh, again!!)
Trust and jealousy are an issue for Eva and Gideon, and it has the ugly potential to drive a wedge between them!!! They cannot bear to think of each other's past relationships, they are possessive which creates a powerful, scorching intensity between them. But...
"Possessiveness without trust is hell."
Sometimes secrets can make trust a hard thing to achieve and, Mr Dark & Dangerous has secrets......Eva just needs to have faith in the lovely, gorgeous, loyal man that is Gideon Cross ♥ ♥ ♥
"You're kisses are mine"

~Gideon

**BR with the Gideon loving, Pink ladies, Barb & Deanna ♥

**And of course there were lots of other ladies enjoying the fun with us ~ Thank you!!! ♥